At ansvarsfullt.se you can easily and quickly create your report and show how you work with sustainability issues.
Simple and reliable sustainability reporting!
With ansvarsfullt.se you receive all the help you need, with a clear definition of sustainability that includes the key areas of quality, environment and social responsibility. We ask the right – and, just as importantly, understandable – questions to help you identify where your company is on a pre-defined scale. The tool is completely cloud-based, and we have placed a lot of emphasis and focus on the user interface and clarity, in order to achieve our goal – to enable all businesses to work with sustainability issues in as simple a manner as possible. You don't need to think about what it means to run your company in a sustainable fashion – we've already done that for you!
All companies benefit from working in a sustainable manner
A sustainable company is a company that combines profitability, environmental considerations and social responsibility – and does so every step of the way. Including your suppliers or subsidiaries in your own sustainability work should be easy. With ansvarsfullt.se you can gain better control and access to a system that gives you the opportunity to impart influence and change where it is needed most. 
What is a sustainable business?
As a business owner it can sometimes feel like the increasing demands regarding sustainability are an impossible maze of different aspects and elements. Where should you begin, and what do you need to do? The environment is often a key point of focus, and for good reason, but as business owners we also know that we need to look at the overall picture. In order to be able to run a successful company, it is necessary to view sustainability measures from all aspects. It has to do with sustainable deals and agreements, with economic sustainability, with sustainability for our employees, and with long-term social responsibility where the environment is, of course, one of the key fundamentals. Sustainability starts and ends with leadership, and in order to be sustainable, a business must also be – and remain – profitable. With ansvarsfullt.se you can easily get to grips with the entire area of sustainability within your business, and you can identify what you actually need to do.
"A sustainable business is a company that in a balanced way considers profitability, the environment and CSR."
Sustainability report
A complete report that shows the status of your company based on all aspects of sustainability.
Quality, Environment and Social Responsibility
These reports are divided up into the key areas of Quality, Environment and Social Responsibility, and highlight your company's sustainability work within each area.
Development Report
This report illustrates your company's development over time and shows the overall status of your company within each area.
SDG Report
This report illustrates your company's effort towards the Sustainable Development Goals.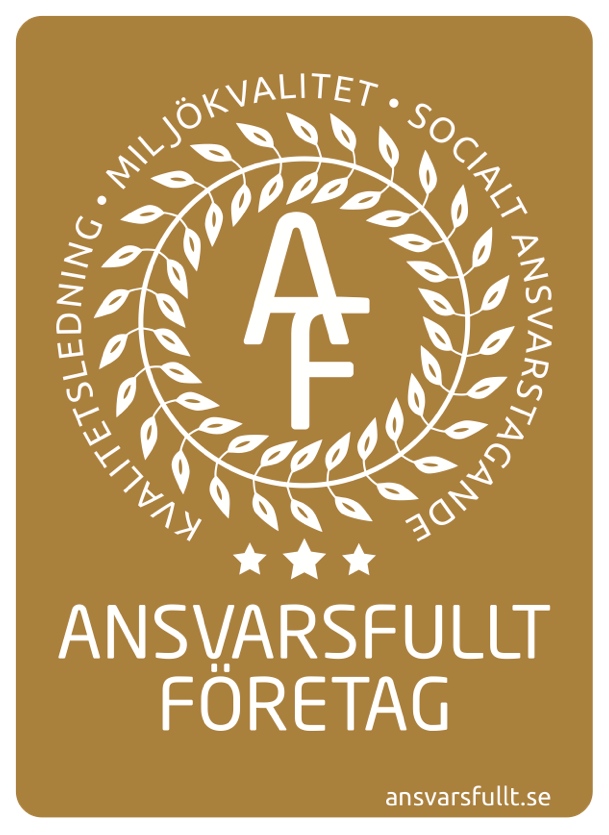 The reports make it easy for you to present the exact status of your company to your Board, your customers, your employees and procuring organisations.
We are completely cloud-based, and ansvarsfullt.se works with any tablet, mobile device or computer, anywhere, anytime. There is nothing to install, so you can get started straight away.
With the Responsible Company® symbol and the reports, you can show that you work in a sustainable manner.