Tender Module
Sustainable procurement
Include Sustainability in Procurement 
Procurement historically has been relying on price and quality. By adding sustainability to this process we broaden the framework to take account a third part that can be used for decision making. This is a very important step for our future, since the supply chain to our public sector a it is such a huge part of companies, employers and carbon footprint.
Luckily we see an increase in demands of sustainability in procurements, that's why we have built our Tender Module – the easiest way to add sustainability to your procurements.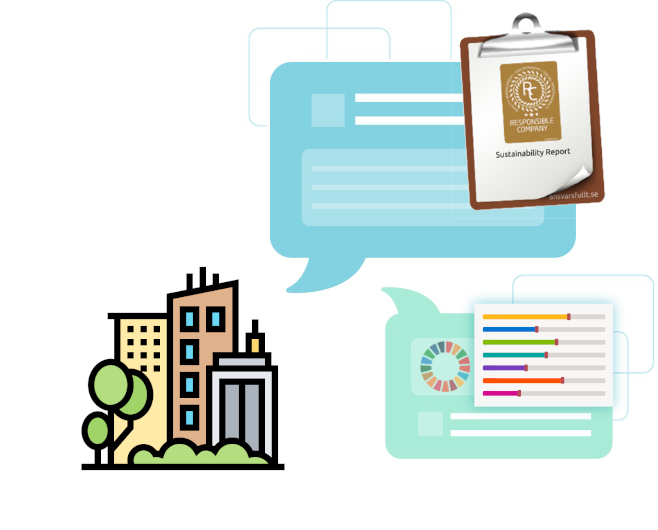 "ansvarsfullt.se makes it possible to measure and compare sustainability in the evaluation process, giving us the tools to work with our suppliers in helping them with concrete actions towards becoming a more sustainable supplier and company."
This is how it works
Quickly and easy create the sustainability reporting part of your tender in our platform. Once saved you will get a link that you can paste into your procurement that you have created in, e.g. a Tender System of your choice. 
The tenderer will then click on that link as part of their process, register with us for a free account and easily answer the questions that are valid for their business and size of company.
Once all the questions are answered, they generate the results by the press of a button and the reports and results can now be seen and compared in the Tender Module.
After a concluded procurement the winning bid(s) can be moved over from the Tender Module into the included Supplier Portal in order to start continuous sustainability review and follow-up with all suppliers.
Easy, effective, comparable – Sustainable!
Tender Module for sustainable procurements
Get a cost-efficient and easy tool to add sustainability to your insights and decision making in the procurement process.
Tender Management
Easy interface to add, change and manage your tenders, results and active tenderers and suppliers.
Set requirements and goals
You can easily mark the questions and areas you want to put extra focus on, and measure the results against your requirements.
Comparable Measurements
With graphs and statistics you can easily get an overview of how each and every one of the tenderers compare against others and against your demands.
Continuous Development
Keep a continuous dialogue and follow-up with the winning suppliers and see their sustainability development towards reaching your desired levels.
Add sustainability to your procurements today
Contact us for a free of charge demonstration of the Tender Module and included Supplier Portal.