Sustainability License
It's that easy!
The tool that puts you in control
Sustainability is a word that is used in an increasing number of contexts these days. As a business, you are expected to work in a sustainable manner. But what does that actually mean?
With ansvarsfullt.se you receive all the help you need. We ask the right questions, enabling you to assess the status of your company in relation to each question within the areas of Quality, Environment and Social Responsibility. The tool is completely cloud-based, and we have placed a lot of emphasis and focus on the user interface and clarity, in order to achieve our goal – to enable all businesses to work with sustainability issues in as simple a manner as possible. You don't need to think about what it means to run your company in a sustainable way – we've already done that for you! The tool allows you to identify your company's current status and phase of development within the various areas, and you receive a report that confirms the work you are doing.

"If you haven't started thinking of how your company can contribute to the national sustainability goals you won't have any customers in the future."
– Yasemin Arhan Modéer, CEO Altitude Meetings
This is how it works
Our tool consists of 153 questions that have been developed in collaboration with ISO experts, auditors and procurement lawyers. The questions are based on applicable standards and are also related to the UN's Sustainable Development Goals.
The questions focus on seven areas: Leadership, Business, Employees, Internal Environment, External Environment, Work Climate and Social Responsibility. You answer the questions through self-assessment on the basis of a pre-defined scale, and your answers result in bars and diagrams that show your current status in relation to each question and within each area. You can then identify and highlight the questions and issues you want to prioritise and work with that little extra as you move forwards. Sustainability measures take time, and our tool enables you to easily track your progress and success at your own pace – month on month, and year on year.
We adapt the number of relevant questions according to the industry or sector you are active in and the size of your company. After registration, you will receive between 87 and 153 questions. You can access the tool at any time to adjust your answers in accordance with the progress of your sustainability work.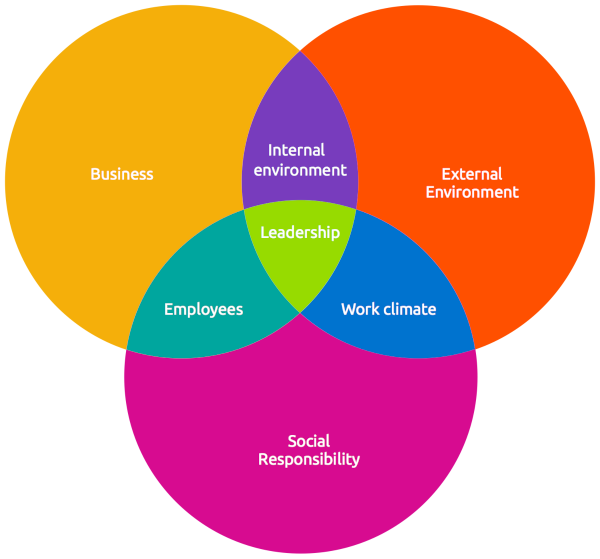 Getting your reports
When all the questions have been answered, the tool generates your sustainability report in PDF format, and you can then use the report to demonstrate your sustainability work to your customers, your auditors, your bank and other relevant organisations – or you can simply use it internally to further develop your sustainability measures.
Show your results!
Your profile remains hidden until you choose to make it public. A public profile has a page to which you can provide links for your stakeholders, so that they can easily gain an overview of your sustainability work. If you choose to have a public profile, you may use our seal Responsible Company®.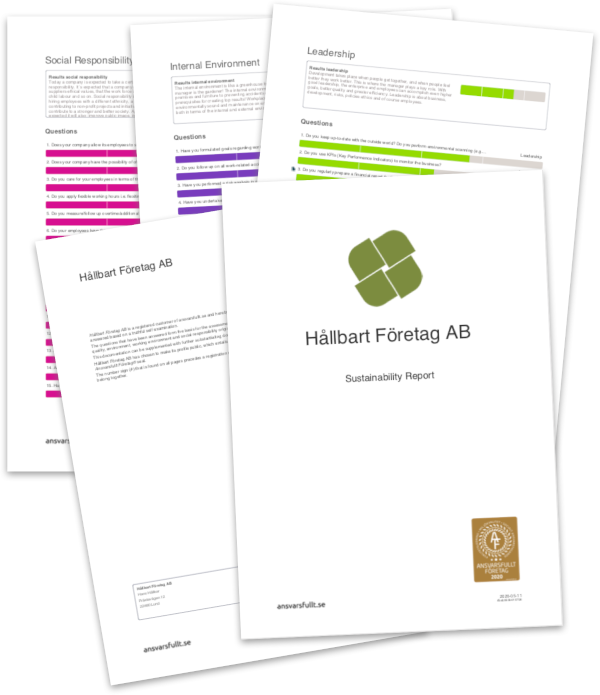 The Seal – Responsible Company®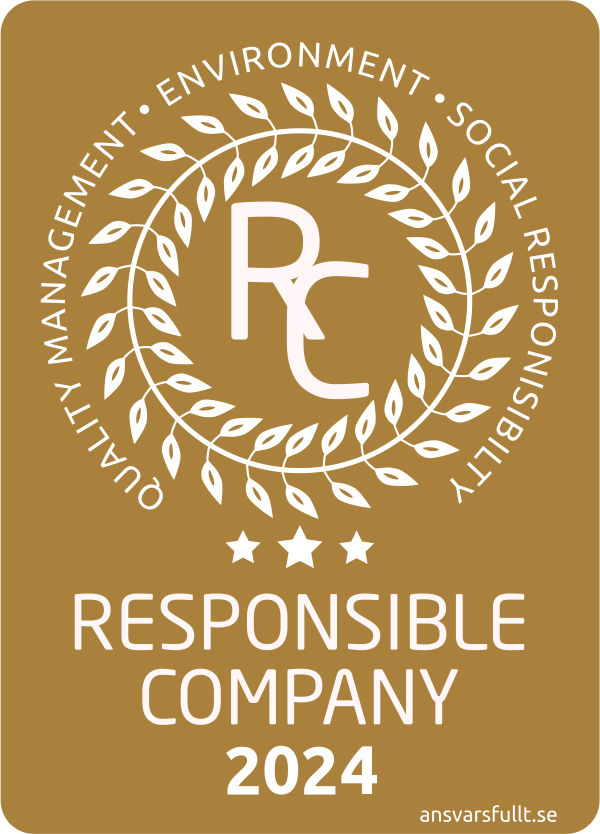 The seal Responsible Company® can be used once the company has answered all the questions and has created a sustainability report.
The seal shows that you are a responsible company that works with continuous improvements within quality, environment, and social responsibility.
The seal is available both in a digital format (downloadable from the tool) as well as a sticker to be ordered from info@ansvarsfullt.se.
Do you have any questions regarding our products or something else?