Sustainability made easy!
As a business owner it sometimes feels that the increasing demands regarding sustainability are a jumble of different aspects. Where should one start and what should one do? Environmental questions are often a central part in regards to sustainability but one can't look at it from an environmental perspective only. Sustainability regards all aspects of a successful company; customers, business processes, finances, employees, society, and of course the environment. Sustainability starts and ends in leadership and requires that your business is profitable. Therefore we at ansvarsfullt.se have taken all these aspects into account when we built our web service. Get a license to use ansvarsfullt.se and gain complete control of all aspects of of your sustainability work.
"A sustainable business is based on profitability, respect for the environment and social engagement."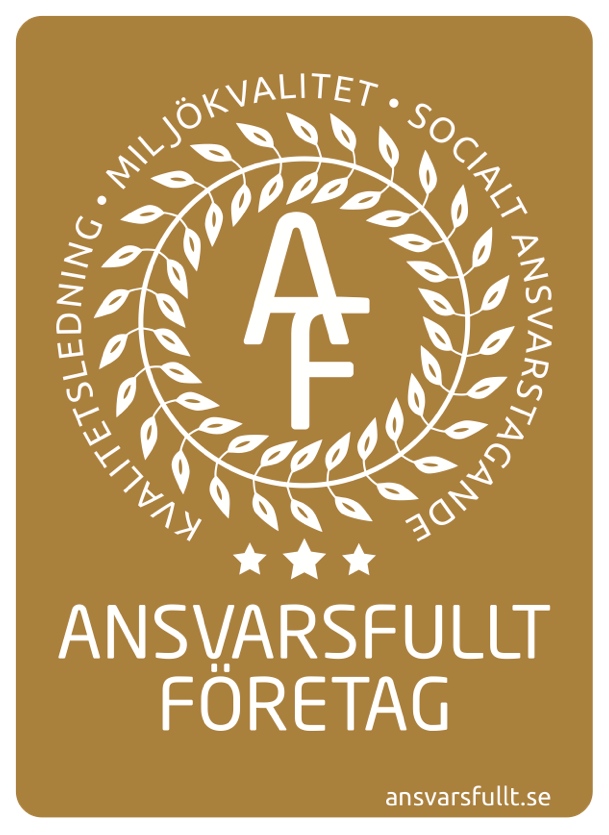 Responsible Company

®
– a sustainability certification
The easiest way to work with sustainability!
With ansvarsfullt.se you get all the help you need. Here you get all the necessary questions to evaluate your company from a sustainability perspective. The tool covers the areas of quality, environment and social responsibility and is based on international standards. We have spent years making sure that the tool and the questions are as clear and understandable as possible. You shouldn't have to think about which questions you need to take into account to work sustainably – we've already done that for you.
This is how it works
Together with ISO-experts, controllers and lawyers we have produced 153 questions that are based on international standards and also matches the Global Goals for Sustainable Development.
The questions focus on seven different areas: Leadership, Business, Employees, Internal environment, External Environment, Work Climate, and Social Responsibility. You answer the questions by assessing the current situation in your company on a predefined scale. You get access to diagrams to check the current state of your company and you can prioritise questions you find particularly important.
Once all questions are answered you can generate your own Sustainability Report and download it as a PDF. This report can be used as an internal tool or to show your current state to external parties such as customers, controllers, banks and other organisations – or use it in a tender to show how sustainably your company works.
Based on industry and number of employees the tool automatically adjust which questions that are relevant to your company. After you have registered the basic data about your company you will receive between 87 to 153 questions. You can go in at any point in time and adjust your answers. When all questions are answered and you choose to have a public profile you can use the certificate Ansvarsfullt Företag®.
We have experts who constantly monitor the current situation in regards to laws and best practices to keep the questions up to date. Thus you know that you are in compliance with what is currently required.
Sustainability Report
Complete report that show how your company is doing in all sustainability aspects.
Quality, Environment and Social Responsibility
These report present each respective area of your work.
Development Report
Shows your development over time in each area as well as in regards to specific questions and efforts.